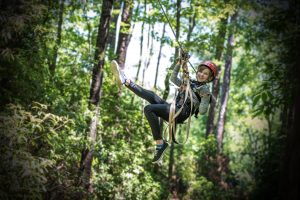 The weather this winter in North Carolina has been exciting. After several weeks of temperatures ranging from mildly cold to really cold, and a few snow and ice days, we have recently been reminded that warmer weather will inevitably be back in full force and that spring and summer are just around the corner. With the weather warming back up, now is the perfect time to discover central North Carolina's newest family pastime – ziplining.
ZipQuest, located in Fayetteville, North Carolina, offers thrilling ziplining adventures through several acres of heavily wooded areas and over Carver Falls, the biggest waterfall in eastern North and South Carolina. Nestled in the middle of a beautiful natural landscape in central North Carolina, ZipQuest is only a couple of hours east of the Atlantic Ocean and a few hours west of the North Carolina mountains.
ZipQuest offers two ziplining courses – the Tree Top Excursion and the Waterfall Expedition. The Treetop Excursion consists of 5 ziplines, a suspension bridge and 2 spiral staircases. The Waterfall Expedition consists of 8 ziplines, 3 suspension bridges, 3 spiral staircases and a magnificent view of Carver Falls. ZipQuest also offers Night Quest for those who want to do the Treetop Excursion course or the Waterfall Expedition course at night.
Every ZipQuest course is lead by our certified and highly trained staff who will guide you safely through your ziplining experience. ZipQuest also offers team building options for groups of up to forty that include our two ziplining courses, team building with a TeamQuest leader and a catered lunch if requested. Ziplining is the perfect team activity for your organization or group! An experience that your team is sure to never forget.
The ziplining experiences at ZipQuest are available Monday through Saturday between the hours of 9am to 5pm, and Sundays from 10am to 5pm. Our ziplining courses are open to visitors age 8 and above, making them a great option when you are looking for a new, fun activity for your family! When the weather turns warm and beautiful, and you are looking for something fun to do, look no further than ZipQuest. Your thrilling ziplining adventure awaits!